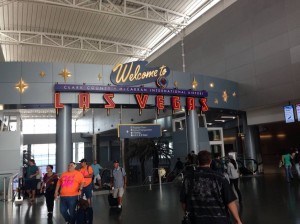 Sorry that it's been over a week since the last post.  Last week I was at the IBIE (International Baking Industry Expo) in Las Vegas.  This trade show takes place every 3 years and brings in about 20,000 baking professionals from around the world and representatives from thousands of  companies connected with the industry.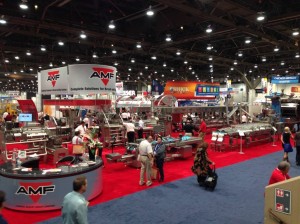 It's fun to walk around the show floor checking out new products and watching demos.  Most of the equipment I would never have a use for, but it's fun watching them go thru their motions.  All types of machinery can be found… automatic palletizers, high speed bottlers (the type you would find in a coca cola plant), metal detectors and even x-ray machines.  One technology that has been used in other industries which is now being used in the culinary field is a water-jet cutter.  Now this might sound odd, who would think to use water to cut a cake!  The high pressure water jet does an excellent job of precise cutting with very little waste and it can be programed to cut basically any design you can think of.  Surprisingly, the cut pieces are not wet and there is no water droplets on the product at all.
Anyways, on to my main rant about Vegas… The Food!  It's always amazed me how much Vegas changes.  I was there last July and in that short of a time it has changed!  When I was living outside of Los Angeles in the mid 90's, I would probably drive to Vegas at least twice a month.  I would stay in Vegas with my g/f at the time, Shannon, anywhere from 3 days and I think the longest we stayed was 11 days.  Both of us were on a very lucky winning streak at that time and every day we would tell each other we would just stay one more day.  Her mom thought we had eloped in Vegas since we were only going to be gone for the weekend!  Back in those days,  most of the big resorts we see today were not there.  MGM Grand was probably the biggest hotel/resort on the strip at the time.  I remember staying at the MGM and watching the New York/New York hotel being built.  Before NY/NY, most of the hotels that were being built were "theme" hotels… like Excalibur… The Luxor… Treasure Island.  I think the hotel that changed Vegas in more than one way, but mainly culinarily, was The Bellagio.  Before the Bellagio opened in 1998, Vegas was mainly known for its buffets and inexpensive cafe food.  You would see adds for steak and lobster dinners for $3.99.  Dinner buffets would be $10-$15.  I even remember one place's "pitch" to get you in was the $1 footlong hotdog.  The Bellagio would offer a buffet, and an excellent one at that, but they also had 2 high end, 5-star restaurants.  Many people, myself included, didn't think these restaurants would survive in the all you want to eat at the cheapest price possible mentally of Vegas.  Within the next few years, other hotels saw how well the restaurants were doing and now many well known chefs from around the world wanted to make their mark in Vegas.  Wolfgang Puck  opens a bistro inside the MGM Grand.  Hotels are now asking chefs what it would take to have them open a shop in their hotels… and many times with an open checkbook so the chef could customize it to however they wanted.  Nobu, Joel Robuchon, Bobby Flay just to name a few have restaurants.  Not just on the savory side, some of the best pastry chefs in the world have made their presence felt.  Francois Payard, Jean-Phillipe Maury, just way to many to name have left their sweet spot in Vegas.
I remember reading a newspaper article in 1998 about how people were worried that Vegas had over developed.  There was no way there would be a demand for all the hotel rooms and services that Vegas had to offer.   That article was written in the 60's… and Vegas keeps on expanding.  There were at least 3 new hotels under construction when I was there.  There was also a ferris wheel under construction which they say will be the largest in the world.  The carriages weren't on the wheel yet when I was there, but it's one giant wheel right now!  From timeless classics like Caesar's Palace to the new and modern Aria hotel, Vegas has always been a nice vacation getaway for a few days (and a few days only…)  Roll the dice for a few rounds… eat TONS of good food and enjoy a luxury stay.  Hopefully next year I'll have a trade show and an excuse to visit Vegas.